A Complete Guide to Food Truck Insurance
Starting a food truck business, just like any business, comes with challenges. You have to get the right licensing, insurance and have a solid business plan. Food truck insurance isn't the same as regular vehicle insurance or business insurance. Since you'll be running a mobile restaurant, you need to make sure you have the right coverage.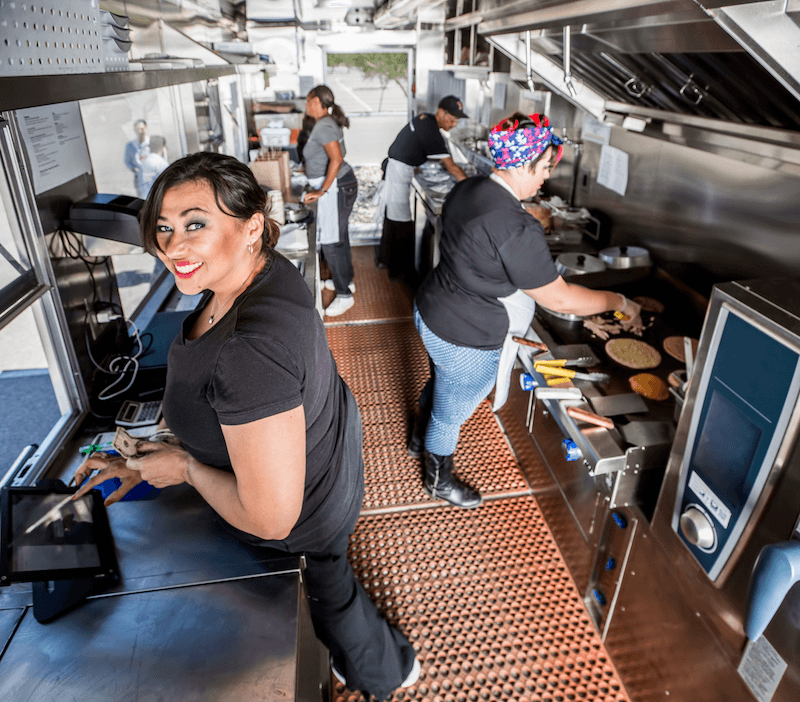 Food truck insurance includes far more than just basic coverage. Understanding what you need and the coverage you have will help you better run your new business. With the guide below, you will gain a better understanding of the coverage you need.
What Type of Coverage Do You Need?
Before we get into the coverage options, it's important to understand the type of coverage you need. It's always a good idea to discuss your needs with a trained insurance broker who has experience covering food trucks and restaurants. Depending on where you are in the process of opening your business, you may not need all of the insurance coverage options right from the beginning. However, you will need at least vehicle insurance, if you own a food truck already.
Generally, you need to cover three things:
Your Business
Your Actual Food Truck
Your Workers
These three categories require four different types of insurance, which are:
General Commercial Liability Insurance
Commercial Property Insurance
Commercial Auto Insurance
Workers' Compensation Insurance
Ready to get coverage? Contact our insurance agency here.
It's important to understand the basics of food truck insurance terminology before looking into the different types of coverage. Some of the key terms include:
Deductible – This is no different than the deductible you have for homeowners insurance or vehicle insurance. It's the amount you will pay if an accident occurs and you need to make a claim.
Premium – The premium will be the amount you pay every month, six months or year for the insurance policy.
Limit – Insurance coverage comes with limits. These limits are the maximum amount the insurance company will pay if you make a claim.
Claim – A claim is a request for payment after an incident has occurred.
You may be familiar with these terms from your auto or homeowners insurance. They basically mean the same time when it comes to food truck insurance.
Coverage for Your Business
You will need to insure your business and the coverage can vary, depending on how you do business. Two types of insurance of commonly used to for food truck businesses: general commercial property insurance and general commercial liability insurance.
General commercial property insurance will cover any damage done to equipment or property you need to run your business, such as:
Computers
Kitchen Equipment in your Truck
Property you lease or own, such as a commercial kitchen
Your inventory
Any loss of income due to a covered claim
You won't have coverage for your actual food truck from general commercial property insurance, however.
General commercial liability insurance will protect you in the event of a lawsuit due to:
Causing physical damage to someone else's property
Causing someone to get sick from your food
Any other negligent activity that causes bodily injury
Making false claims through advertising materials
Using a trademark for your business, which you don't own
With this type of insurance, you will be protected in the event something goes wrong. Even if you didn't do anything illegal, you could be sued and liability insurance will help to cover the coast of the lawsuit if you are found to be negligent.
Vehicle Insurance
Along with insurance coverage for your business, you will need to insure the actual food truck. This needs to be done on the day you actually buy the truck, even if it will remain parked or in storage. Commercial auto liability insurance is similar to personal car insurance.
Commercial auto liability insurance will provide:
Collision coverage to repair damage if you get into a traffic accident or if someone hits your vehicle and you are unable to collect from them
Comprehensive coverage for non-collision damage, such as theft, glass breakage, vandalism or fire
Medical coverage for those involved in an accident
Uninsured and underinsured motorist coverage in case you're involve in an accident with a driver without insurance or with low coverage limits
In many causes, commercial auto insurance will include the ability to rent vehicles in the event of an accident. This coverage will protect the actual truck, but may not cover the equipment inside the truck. Make sure you understand your limits and what's included so that you can adjust other insurance coverage to fill in the gaps.
Employee Insurance
If you will be the only one working in your food truck, you may not need workers' compensation insurance. However, if you will have employees, you will need this coverage to protect your employees in the event of a work-related accident. In some cases, worker's compensation insurance will even cover volunteers working for you, such as a family member.
Don't skip this coverage because you think work related injuries don't happen with food truck businesses. Injuries can happen with any business and if something does happen, you'll be glad you have this coverage.  And more importantly it is usually required by law.
Additional Coverage
While the three main types of insurance above may be enough, it's important to know all of your options. You may have the ability to add an umbrella policy to your insurance, which will provide extra protection. This type of policy will provide additional protection you can attach to other policies in the event of an incident going above and beyond your limits.  And another reason to work with an experienced broker-there is EPLI, Cyber, Data Breach, Crime, Loss of Income and more types of coverage available that you will want to discuss with your broker!
In addition, if you will run your food truck as a catering service, you may need a Certificate of Insurance for each of the venues you will be working at. This could also be the case when attending some festivals or other types of events. It's also important to let your homeowner's insurance company know if you will be using your home as a home office, especially if you'll be meeting employees or clients there.
Before you hit the road and start selling your delicious meals to the masses, make sure you're fully covered. Get the right food truck insurance or you may be bankrupted by one simple accident. With the right coverage, you'll have peace of mind knowing you're protected no matter what might happen.
To get a quote on insurance for your food truck, please contact our insurance agency here.