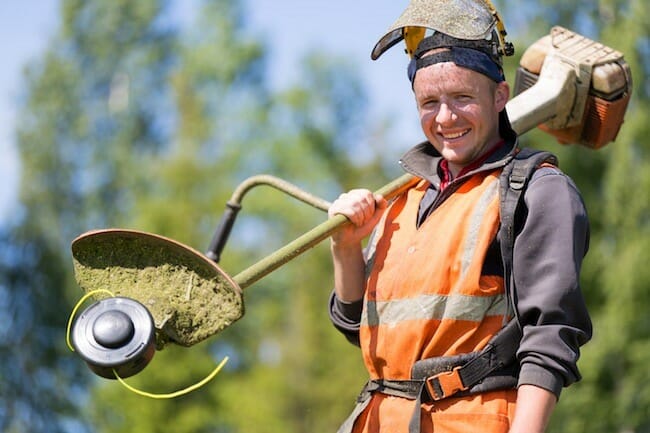 Landscaping businesses have special needs and we at Balsiger Insurance have packages that provide the right coverage for you.  Landscaping liability, property, equipment (Inland Marine), vehicles, worker's compensation, umbrella, bonds….you name it we will find the best coverage at the best price!
Are you a startup Landscaping business?  No problem, we can help you put together the insurance you need!
We work with landscape companies in Reno, Las Vegas, Henderson and throughout the state of Nevada!  And we have operations in other states like California, Tennessee, Arizona, Oregon, Washington, North Dakota, Utah, Florida, Georgia, Idaho….no problem….we can take care of your business insurance.
Property and Liability Coverages available on monoline or
package basis for landscape contractors providing lawn care,
sprinkler maintenance and installation, and incidental tree
trimming services (less than 15% of total sales) as their
primary operations. Not intended for landscape architects
who do not perform the work, or subcontract all of the work.
CGL
Coverage available:
• Primary Limits up to $3,000,000 Occurrence/Aggregate
• Blanket Additional Insured Endorsement available
• Excess or Umbrella Limits up to $25,000,000
• Errors & Omissions Coverage Part—Policy Limits
• Included Coverages:
Medical Payments—$5,000 Limit
Pesticide/Herbicide Applicator Coverage—Policy Limits
In-Transit Pollution Coverage—
$25,000 Occurrence/$100,000 Aggregate
Lost Key Coverage—$25,000 Limit
Property Damage Extension (Care, Custody, Control)—
$5,000 Occurrence/$25,000 Aggregate is included; higher
limits are available
$500 minimum deductible required
Loss Prevention Brochure available
Property
Coverage available:
• Building
• Business Personal Property
• Business Income
• Basic, Broad or Special Form
• Replacement Cost or ACV
• Accounts Receivable
Crime
Coverage available:
• Inside the Premises—Theft of Money and Securities
• Inside the Premises—Robbery or Safe Burglary of
Other Property
• Outside the Premises
• Computer Equipment
• Contractors' Equipment
• Equipment Breakdown
• Outside Signs
• Valuable Papers
Balsiger Insurance has three office locations, one in Las Vegas, Nevada, one in Henderson, Nevada, and the other in Reno, Nevada. If you are looking for proper Landscaping Contractors Insurance, then click here to contact us.
Las Vegas Office: 3481 East Sunset Rd, Ste 100 Las Vegas, NV 89120
Reno Office: 6380 Mae Anne Ave, Unit 7, Reno, NV 89523