Balsiger Insurance is your go to for California restaurant insurance. We have access to the top programs whether you are a franchise, single location, multiple location or an individual non franchised location. Our programs are the perfect fit with or without liquor.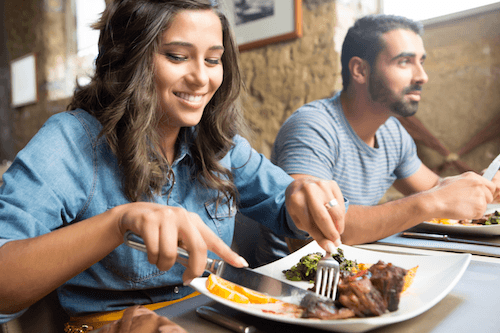 Is delivery posing problems? Not with us. We have programs and carriers that will cover your delivery exposure!
Even if you are a startup we can help you secure the coverage you need.
Neighborhood agents specialize in auto and home insurance. Sure we offer those pieces, in fact we have a team that does all of our personal lines. When it comes to insuring your business we feel you also need a specialized team that works with business owners every day and keeps up to date on what it takes to protect your business when disaster strikes!
The auto and home agent that dabbles in restaurant insurance is likely not the expert you need for your California restaurant insurance. Our team will gather all of your information and do a thorough risk assessment of your business. We will talk to you about various exposures and help you make a decision to either purchase coverage to transfer the risk to the insurance company or to self insure where it makes sense.
As a broker we don't have to place all of your coverage with one carrier. We will shop our markets to put together the best combination of price and coverage.
Let's take a look at some of the possible pieces of your insurance package:
WORKER'S COMPENSATION. This is required if you have employees. Rates are based on your payroll. We can actually write this coverage STAND ALONE. We have carriers that love to do worker's compensation for restaurants! Part of our Risk Management process also helps you train employees to reduce injuries. This can have a very positive effect on your workers compensation mod factor. This is a debit or credit that you earn based on a formula that looks at your loss history and premiums paid.
PROPERTY COVERAGE. Of course you will want to cover the equipment, furnishings and inventory that you have on hand. If you are renting and have tenant improvements it is generally your responsibility to also insure the tenant improvements..
LIABILITY COVERAGE. Very important. First, if you are a tenant your landlord will require this coverage. Same thing if you are a franchise this coverage will be required. This is one of your most important coverage pieces as it protects you if someone is hurt due to your negligence. Common restaurant liability claims are food poisoning and slip and fall injuries. Rates are generally based on receipts and/or square footage of the space you serve in. Keep in mind that many suits can be brought against you where you really weren't negligent and end up owing nothing. Yet, this coverage is important as it also provides defense costs! There are many pieces inside the general liability coverage that we will also talk to you about such as Advertising Liability coverage.
LIQUOR LIABILITY COVERAGE. While laws and exposures vary state to state this coverage protects you if you sell any type of liquor in your California restaurant. Picture someone that has too much to drink and they leave and get in a serious car accident. This coverage will protect you for suit brought against you by the patron or by someone they injured after leaving your establishment.
EMPLOYMENT PRACTICES LIABILITY COVERAGE. Often overlooked by business owners-yet an area that we are seeing more and more suits brought on by current or former employees! These can be discrimination claims, wage and hour claims, harassment claims and they can be against you the owner or against your management personnel.
UMBRELLA or EXCESS LIABILITY COVERAGE. Plain and simple just a good coverage to have. This is extra liability coverage to protect you if the underlying policy doesn't provide enough liability coverage. Look at the same example-say 150 people come down with serious food poisoning from something your restaurant served. In a case like this you could eat up all of your general liability coverage. This is where the extra coverage steps in. Another example is the delivery situation where your driver seriously injures a car full of doctors!
AUTO COVERAGE. Other than the obvious-if you have commercial vehicles titled in the business in California they need to be insured in the business. You also want to make sure you have non owned and hired auto liability. This protects you when employees use their vehicles on your behalf. The hired auto coverage kicks in if you rent a vehicle or hire someone to use their vehicle for your business.
CYBER & DATA BREACH COVERAGE. Another relatively new exposure but extremely dangerous place to go bare! If you take credit cards plain and simple talk to us about protecting your business against these types of issues. Hackers are all over in our world. These are the new scam artists hacking into our systems and stealing client information. Then they use it for fraudulent charges on your customers credit cards. Those customers are going to look to you for reimbursement. When there is a breach there are also major costs in the notification of your customers. It really pays to talk to an insurance professional that understands these exposures and how to cover them.
EMPLOYEE BENEFITS SUCH AS HEALTH INSURANCE. At Balsiger Insurance we feel it is important to be your one stop shop. We have a separate benefits department that handles things like Group and Individual health insurance for our clients. We also offer a full line of voluntary benefits for your employees that while a benefit to the employees does not cost you a dime!
BUSINESS LIFE INSURANCE. We are aligned with over 30 different life insurance companies. Whether you are looking for term or permanent cash value policies we have them. We do a lot of business use term life insurance with our carriers at SUPER COMPETITIVE rates in California. As an example we recently provided $5,000,000 of coverage for a business owner at a cost of roughly $2,000 per year!   Of course age and medical history would play into your individual rates!
LOSS OF INCOME COVERAGE. Many of our packages automatically include this coverage. It does what it says and more. In addition to covering your lost income in the event of a covered loss it also often provides coverage for other key ongoing expenses such as paying key employees, additional advertising costs and possibly fixed overhead expenses while you are getting repairs taken care of.
Lots of information, hopefully after reading all of this it makes sense to reach out and contact Balsiger Insurance where we specialize in working with business owners each and every day! Our goal is to save you more than premium dollars. We want to SAVE YOUR BUSINESS WHEN DISASTER STRIKES!